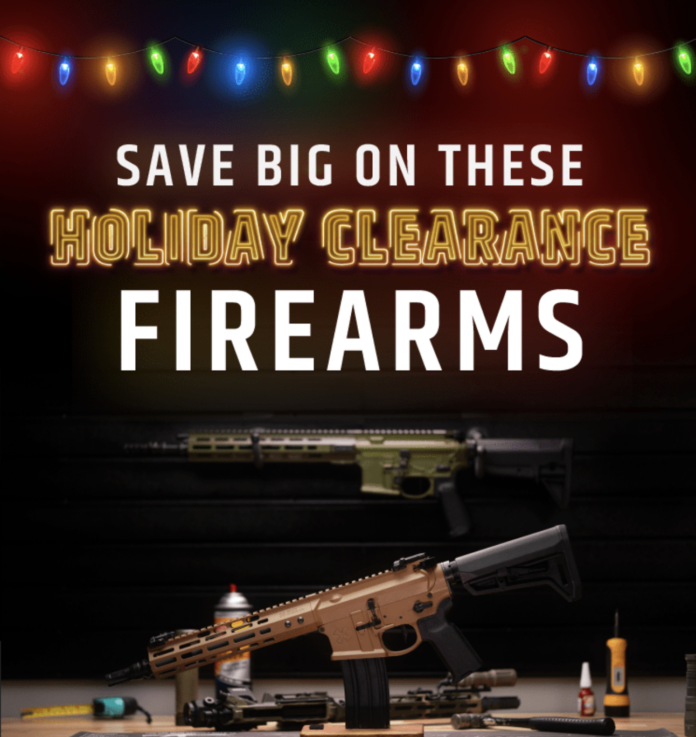 Big Tex Ordnance has a couple of neat firearms deals for Black Friday and the upcoming holidays,
SOLGW Legacy Rifle 16″, Mid Gas, Liberty Fighting Trigger L9 | Sons Of Liberty Gun Works
At Sons of Liberty Gun Works they believe in Quality Mil-Spec or better parts. They also believe there is no substitute for quality and that your gun should be built right the first time, ready for hard use right out of the box. And believe a quality Bolt Carrier Group and a quality, accurate and long lasting barrel are the heart of a Combat Grade weapon. That a properly tuned weapons using the correct gas system length and quality buffer system components such as Sprinco Tactical Buffer Springs. They also back them up with a Lifetime Warranty. Their weapons are meant to be used hard and go in harm's way, they won't let you down.
Barrel: Sons of Liberty Gun Works 16" 4150CoMOV 1:7 MPI HPT Barrel
Caliber: 5.56 NATO Chamber
Barrel Steel: 4150 CrMoV (Chrome Moly Vanadium per MIL-B-11595E)
Twist Rate: 1/7 Twist Six Groove
Thread Pitch: 1/2-28 Threaded Muzzle
Gas Block: .750″ Gas Block Journal with appropriately sized gas port
Weight: 25 Ounces
Barrel Finish: QPQ Corrosion Resistant Finish
Barrel Extension: QPQ coated M4 Feed Ramp Extension
High Pressure (proof) Tested (HPT)
Magnetic Particle Inspected (MPI)
With "F" Marked Taper Pinned Front Sight Block
Upper Receiver:
Material: Made from Mil-Spec 7075-T6 aluminum forgings.
Finish: Anodized to Mil-Spec MIL-A-8625F, Type III, Class 2, Hard Anodic Coating, Flat Black Dye, Non-Reflective, NiAc Seal
T-Marks: Engraved T-Marks
Gas Block: Sons of Liberty "F" marked Front Sight Block made from 4140 Steel and Nitride Treated
Gas Tube: Sons of Liberty Standard Mid Length Melonited Stainless Steel
Hand Guard: Standard Plastic Handguard
Muzzle Device: Standard A2 Flash Hider
Front: "F" Marked Front Sight Block
Includes: One SOLGW 30rd Mag, SOLGW Sticker & Patch, copy of the US Constitution and LIFETIME Warranty Certificate
Does include rear MBUIS
Walther Meister Series PPQ Q5 Match SF 9mm, Patriot Edition
The limited-edition "Patriot" model elegantly fuses the rich patriotic history of the United States of America with the unyielding performance of Walther's Q5 Steel Frame. The distinctive engraving on this iconic pistol is immediately recognizable as an uncompromising embodiment of accomplishment and a passion for quality.
The barrel, slide, steel-frame, and even magazine base plate of the "Patriot" are all Tenifer® nitride treated and polished to give superior hardness and phenomenal protection against corrosion. The master engravers apply the 'Patriot' engraving at world-famous Bottega Giovanelli in Italy.
To enhance functionality, a Dynamik Performance Trigger has been introduced. This is a dynamic match trigger with superior characteristics of reduced take-up, trigger stop, and trigger reset. At its wall, the flat-faced aluminum triggershoe breaks like glass at 5.5lb.
The one-piece wrap-around aluminum grip is machined from a solid block of aerospace-grade aluminum alloy and the magazine base plate from a solid block of pure steel resulting in a homogenous, balanced structure. With 20 lines per inch checkering and satin anodizing, shooters will discover in-the-palm ergonomics that feel like an extension of their hand. The striking "Patriot" edition is completed with a black serrated target front sight and adjustable match rear sight both fully integrated into the slide.
The Walther Q5 Steel Frame "Patriot" promises unparalleled performance that can only be found at Walther, a company defined by over a century of engineering passion, precision workmanship, and innovation.
"We have embraced the passion of our customers with the Patriot model. Fusing distinctive engraving with performance upgrades to the respected Q5 Steel Frame, we have created a pistol of heirloom quality. We are proud to offer this model, and our customers will be proud to own it," said Bernhard Knöbel, CEO, Carl Walther GmbH.
LMT MARS-L 5.56 CQB16-MARS MLOK 16″ Rifle | Lewis Machine & Tool
MLC Upper Receiver | Ambidextrous Charging Handle |
S-A Bolt Carrier Group | MARS-L Lower Receiver |
16″ 5.56×45 (.223) Chrome Lined 1:7″ RH Twist Barrel
Utilizing the LMT® patented Monolithic Rail Platform, MRP™. The only true monolithic rail platform, milled from a single solid piece of aerospace aluminum forging. It utilizes two locking bolts accessible from the side of the receiver to lock in the barrel extension. This patented technology engages the barrel extension for a full 360 degrees around the extension and makes the barrel removable within seconds with a return to zero of the same barrel. One receiver can utilize numerous barrels of varying length, material, and caliber.
The upper receiver has 14.5″ of uninterrupted 1913 picatinny rail on the 12 o'clock position. The remaining 7 sides provide M-LOK compatible attachment points.
Monolithic rail platform barrels utilize a low profile gas block and straight gas tube. They possess proprietary coating and are cryogenically treated for long term durability.
The MARS-L ambidextrous lower receiver features LMT® ergonomic textured grip and SOPMOD stock, and the ambidextrous features include bolt catch, magazine catch, and safety selector. As with all LMT® lower receivers, the extension tube is coated with dry film lubricant.
This weapon system comes complete with 3 grip panels, one magazine and owner's manual.