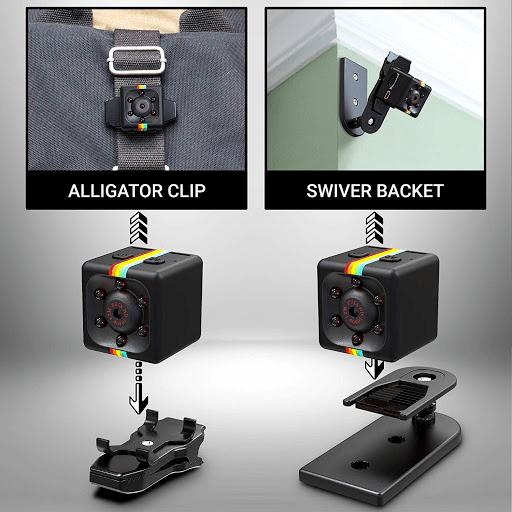 High Definition Audio Recording
Motion Sensor Activation For Loop Recording & 24/7 Filming
Alligator Clip Included: Clips To Any Shirt, Jacket, Pants, Belt, Backpack Or Purse For Filming On The Move
Adjustable Wall Mount Included: Mounts To Walls, Swivels & Works As A Motion Detecting Home Security Camera
Mounts To Any Dashboard For Filming Inside & Outside Your Vehicle While You Drive.
Easily Upload Camera Footage To Computers & TV's
Other Action Cameras Can't Compare…
If you've been shopping for cameras… You know they're not cheap. But what's even worse… Most cameras only serve one function… Until now, you would have to buy one camera for action videos, a different camera for home surveillance… Another camera for the car… It's simply doesn't make sense for the average person.
The Perfect Camera For Filming Anything & Everything
Wide-range video capture, 1080P HD video, motion sensor filming, night vision…
Virtually invisible around the house to keep an eye on your dogs or baby-sitter…
Works as an outdoor security camera for daytime and nighttime…
Installs to dashboards to works as a car camera…
Clips discretely to your jacket, shirt, belt or pants to record video on the go…
Takes pictures like a regular camera…
Works great for action sports like skiing and motorcycling!