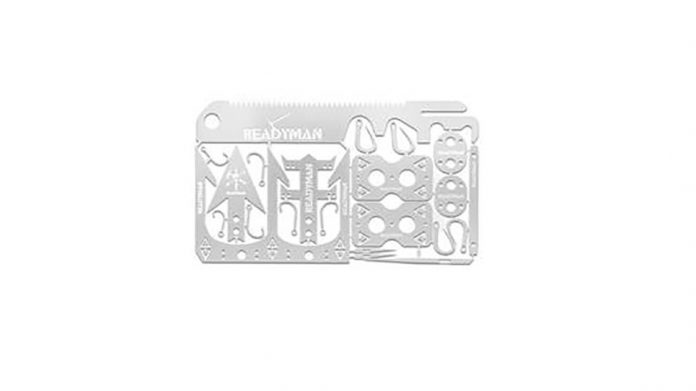 After years of careful research, testing, and refinement, we're proud to introduce the Enhanced Wilderness Survival Card! Inventor and 28-year Special Forces Veteran Jeff Kirkham has taken feedback and design inspirations from his other best-selling survival cards and worked to create the next evolution of lightweight, durable, and incredibly versatile on-the-go survival cards.
This card was designed to tackle more than its predecessor, with the addition of Medical and Rifle cleaning tools to its already compact form – replacing more pounds of weighty gear. Over 20+ tools that slip in your wallet (it's no bigger than the size of a standard credit card!) and still only 1 ounce.
Tools included:
1x Enhanced Saw/Rifle Cleaner: acting as two tools in one, this tool allows you to cut sticks and branches, and also to clean smaller rifle components.
3x Enhanced Arrows/Spears: these arrows and spears allow you to hunt small game, with improved tie-down locations and triangular grips on the trident spear, and a rounded edge to make an easier fit in your wallet.
3x Sewing Needles: these sewing needles give you the flexibility to repair clothes, bags, and tents, and anything else a needle can pierce.
6x Fishhooks: these fishhooks come in two different sizes, so you can choose the right size for the right game.
4x Safety Pins: these safety pins will help you hold medical material in place, and can even be used for light stitching work.
2x Enhanced Bandage Clasps: these clasps have been improved from our last iteration with the inclusion of easier-to-use triangular grips.
2x Snare Locks: these snare locks allow you to set up traps for small game.
1x Tweezers: the classic tweezers, perfect for removing ticks or working with small materials.
Make yours or someone else's day – and give them enhanced survival in their pocket!