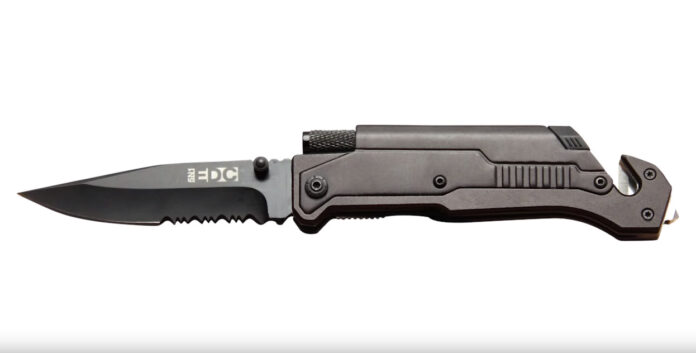 I'm About To Blow Your Mind.
Because I've got a survival knife that's loaded with a boatload of cool and practical features that I will now send you…
For FREE.
You're gonna love this.
It's NOT a bulky leatherman-type gizmo crammed with forks and scissors and stuff that you'll rarely use.
No.
This 5N1 EDC Tactical Survival Knife has just 5 of your most essential survival tools so neatly arranged and engineered it can be easily and comfortably…
Tucked Into Your Pants
Just Like A Pocket Knife.
But of course it's a lot more than just a pocket knife.
And best of all, it's yours for no-cost. A gift from me to you and a handful of others lucky members on this exclusive hotlist.
Hi it's Jimbo over here at FightFast, on behalf of my business partner Bob Pierce and the rest of the crew.
For 30 years now we've been providing ordinary civilians like you the simple secrets to extraordinary personal protection and survival.
Equipment and knowledge that's simple… high quality… easy to use… and devastatingly effective.
This amazing 5N1 EDC Tactical Knife is just one more example.
Our engineering and design team — guys who have worked side-by-side with SEAL Team Six Members, DELTA Force Operatives, Green Berets, Paramilitary Contractors, and Alaskan Wilderness survival experts — have sweated over this for more than 2 years.