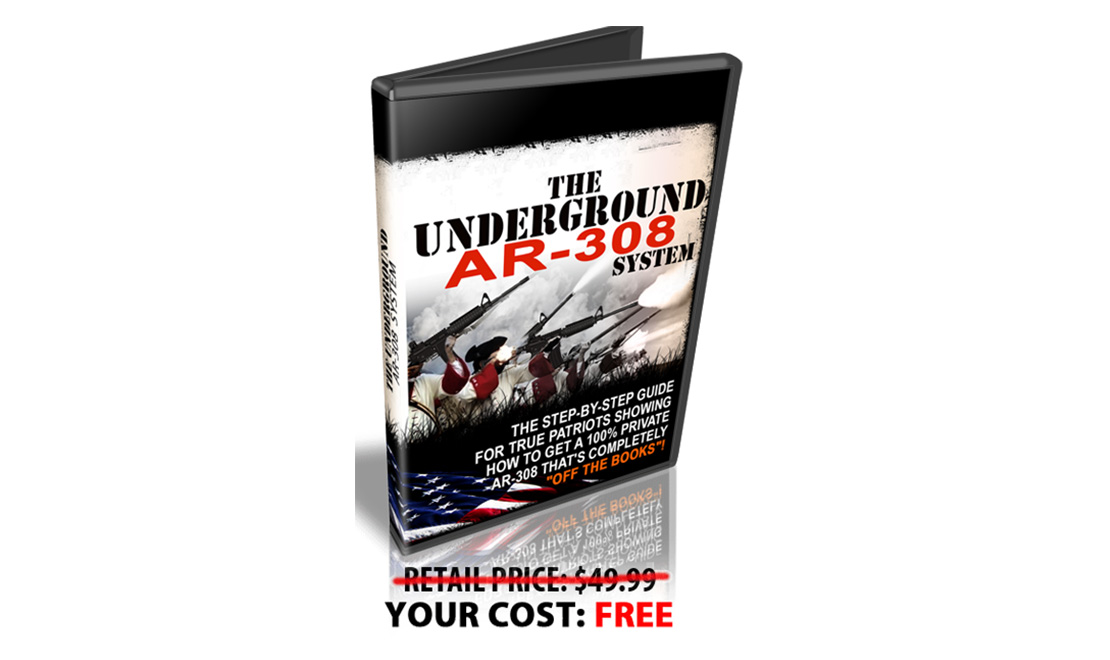 How To Build Your Own Untraceable AR-10 Style Semi-Automatic "Sniper Rifle" In Hard Hitting .308 That Can Shoot Targets At 1,000 Yards! Inside this DVD, you'll discover how to build your own AR-308 with just a handful of tools and simple, inexpensive parts. 
No Serial Number. No Registration. 100% legal*.
Yes, You Can Build Your Own AR-308 "Sniper Rifle" Just Like Mine And The Government Will Never Know About It!
FACT: The AR-15 is NOT a high-powered rifle… but this .308 AR is!What's so different about a .308 caliber semi-automatic rifle?
As you may know—despite what the anti-gun media says—the AR-15 is NOT a high powered rifle.
In fact, in many states like my home town of Virginia – they won't even let you hunt deer with a regular AR-15 because it's considered too weak to be a hunting rifle!
But the .308 Winchester—also known as the 7.62×51 NATO cartridge—is considered the perfect North American big game hunting cartridge because it can take down anything from deer, to elk, bears, wild hogs, and more.
FACT: Military and police Snipers use the .308 more than any other caliber — it's the most popular long-range Sniper round in the world!In fact, two of the longest recorded sniper kills in military history were made between 1,300 and 1,400 yards with the .308 … That's over 13 football fields away!
Today, there are dozens of examples of combat-proven semi-auto .308 sniper rifles …The US Army, Navy, Marines, SEALS, and even Delta Force have all used .308 semi-auto AR style sniper rifles in the Global War on Terror …
Here's How Building Your Own AR-308 At Home Can Even SAVE You Money…A well-built AR-308 sniper rifle can get really expensive, really fast!
In fact, in the picture below, you can see a similar AR-308 style semi-auto rifle selling for over $2,900!
The truth is, you'll only have to invest a fraction of that to build it yourself…
And even better, because you're building it, it will be 100% custom to how you like it.
In fact, because you'll be only using the parts you want to use to build your rifle, you'll be able improve anything you don't like …
If you want a better trigger you can do that …
If you want a stock that fits you better, or the color you want, and the rail style you need, it's all your choice…
If you want better sights, or a certain scope, that's easy too …
The truth is it's all up to you and it might even save you money.
Look at it this way: many people buy an AR-308 for $2,000 or more.
Then they don't like the stock, so they spend another $70 or or more to get a stock that fits them…
And they don't like the rail, so they upgrade to a free float rail for another $100 to $200…
And they don't like the trigger, so they spend another $150 to $200 upgrading the trigger …
After just a few upgrades — they've already spent near $1,000 upgrading a brand-new rifle!
Doesn't it just make sense to simply build the custom rifle you actually want, from the start?