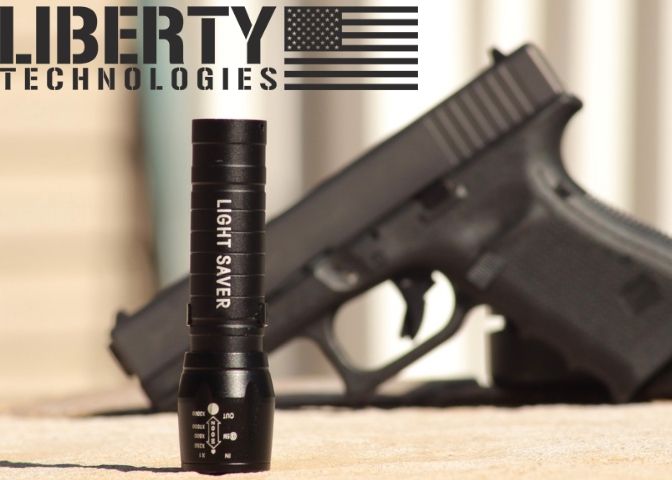 10 Ridiculously Good Reasons The Light Saver Will Become Your New Favorite Tactical Torch
When Liberty Technologies made the Light Saver they had one goal. Give Americans a tactical light they would love and could depend on for the rest of their lives.

And to say they've accomplished this is an understatement.

Here are 10 ridiculously good reasons the Light Saver will become your new favorite tactical torch.
1. Incredibly Lightweight and Compact:
When it comes to all things tactical, lighter is generally better.

The smaller and lighter something is the easier it is to carry.

At just 3.75″ in length and 3.3 oz. in weight the Light Saver easily slips into a shirt or pants pocket for all day carry.
2. Unbelievably Bright:
But even though it's incredibly small, it's also unbelievably bright. The Light Saver gives you 1000 lumens of white hot light. That's enough light to shine all the way across a football field AND more than enough light to blind an attacker or light up an entire house. 

3. Doubles as a Room Brightening Lantern:
The Light Saver isn't just a flashlight, it's a room brightening lantern. On the side of the Light Saver is an 8-LED flashpanel. Just two clicks on the Light Saver's rubber pressure switch activates the side panel on the Light Saver.

The 300 lumen LED panel throws out a staggering amount of light which means you can activate the lantern, set it down in your work zone and get things done 100% hands free.
4. Gives You Hands Free Light – With a Built-in Headlamp Function:
Do you need your Light Saver to light up wherever you're looking? The tactically minded guys at Liberty Technologies find that whenever they're out hunting or working on their garage it's nice not to have to hold their light.

Which is why they put a convenient clip on the Light Saver. Clip it to the bill of a hat and you've got an incredibly bright headlamp that blasts away darkness.
5. Zoom Focus for Perfect Illumination:
The Light Saver has 1-2000x zoom focus to help you get the exact light you need for any situation.
6. 100% Waterproof and Tough As Nails:
You're going to love the fact your Light Saver will stand up to all kinds of abuse.

An aircraft-grade aluminum housing deflects damage and dents that come from drops and accidents.

And the IP67 waterproofing rating means you're safe to use your Light Saver in the most hazardous conditions. Waterproof to a depth of 3 feet, it'll even survive accidental dunks in a bath, or the lake.
7. Saves You Money – Never Needs Batteries!
You're about to save yourself a boatload of money since you'll never need to buy batteries for your Light Saver.

That's because the Light Saver has a built-in rechargeable battery. Just plug the included USB cord in to any USB outlet and you'll be on your way to charging it in no time flat.
8. Fast Charging – Long Lasting Power:
The Light Saver charges in 3-4 hours and once fully charged gives you hours of light (depending on which mode you use).
9. Could Save Your Life:
One more feature the Light Saver has is a powerful strobe light. With it you could blind an attacker or use the strobe to attract the attention of rescuers. Either way the strobe feature could save your life.
10. Easy to Use and Reliable:
The Light Saver has a comfortable and durable rubber pressure switch in the base of the light. This switch is easy to use for quick cycling from High Power – Strobe – to Lantern. 
Plus the charging port is right there for easy access.