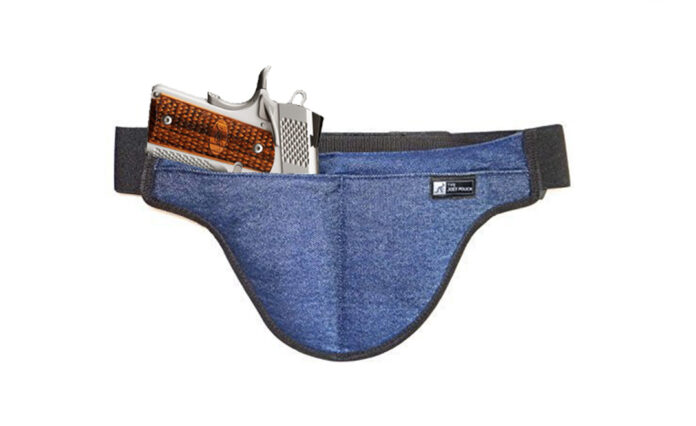 Discover The "Kangaroo Secret"
It works flawlessly to disappear any size or make of handgun, including full-size service pistols.
100% INVISIBLE even in gym shorts…
You get an incredibly fast draw and it holds your spare magazines without any extra add-on gear…
Take a minute…
How would you FEEL if your family faced a violent encounter with one of these criminals and drug addicts…
What if that was the day you left your EDC at home because you couldn't carry discreetly and comfortably?
Leaving you and your family at the mercy of some thugs prowling the streets…
YOUR streets.
I was attacked in my own church.
Violent crime doesn't take a day off!
So why should you???
That's why I decided to tell the world about this "Kangaroo Secret" the cops weren't sharing with the rest of us…
You no longer have to choose between protecting your family and being comfortable when you carry.
You never should have had to make that choice in the first place.
So if you've been praying for a concealed carry method that keeps your firearm:
All-day secure…
All-day comfortable…
All-day lethal…
All-day invisible…
So you can keep your loved ones safe, all day…
Then this might be the most important letter you've read in the last 10 years.
So What Makes The Joey Pouch So Different?
The Joey Pouch is the only holster to be constructed with this "Stretch System" using Italian nylon.
We took top-shelf materials and breakthrough construction methods to create a holster that gives all the power back in the hands of the "good guys"…
Now we can rely on ourselves.
 Italian Stretch Nylon
 Industrial Strength Velcro® Belt – Fits 32-40" Waist
 Heavy Duty Denim – Matches your jeans. Made tough, yet comfortable.
 "Watershed"technology, a proprietary membrane between the inner and outer layer of the pouch that keeps sweat and moisture from ever damaging the investment you have in your gun.
 Lightning-Fast Draw– The interior fabric of the Joey Pouch is zero friction and resistance, making your draw fast and smooth.
 100% Secure For Travel & On The Go – Your gun won't wobble an inch while you use the restroom, drive your car, go to the gym or walk through a crowded street.
 "No Sweat" Technology – Breathable fabric that doesn't lose firmness from rain or heavy sweat.
 Doesn't Bite Your Skin – Doesn't pinch and bit like those traditional hard-sided holsters.
 Molds To Your Every Movement
 Rear Pouch – Holds your valuables like your license, money or credit cards.
The Joey Pouch defends your life and liberties.
I made The Joey Pouch to the same specifications as all the undercover cops…
It's designed for those who want comfortable all-day concealment and ultimate discrete.