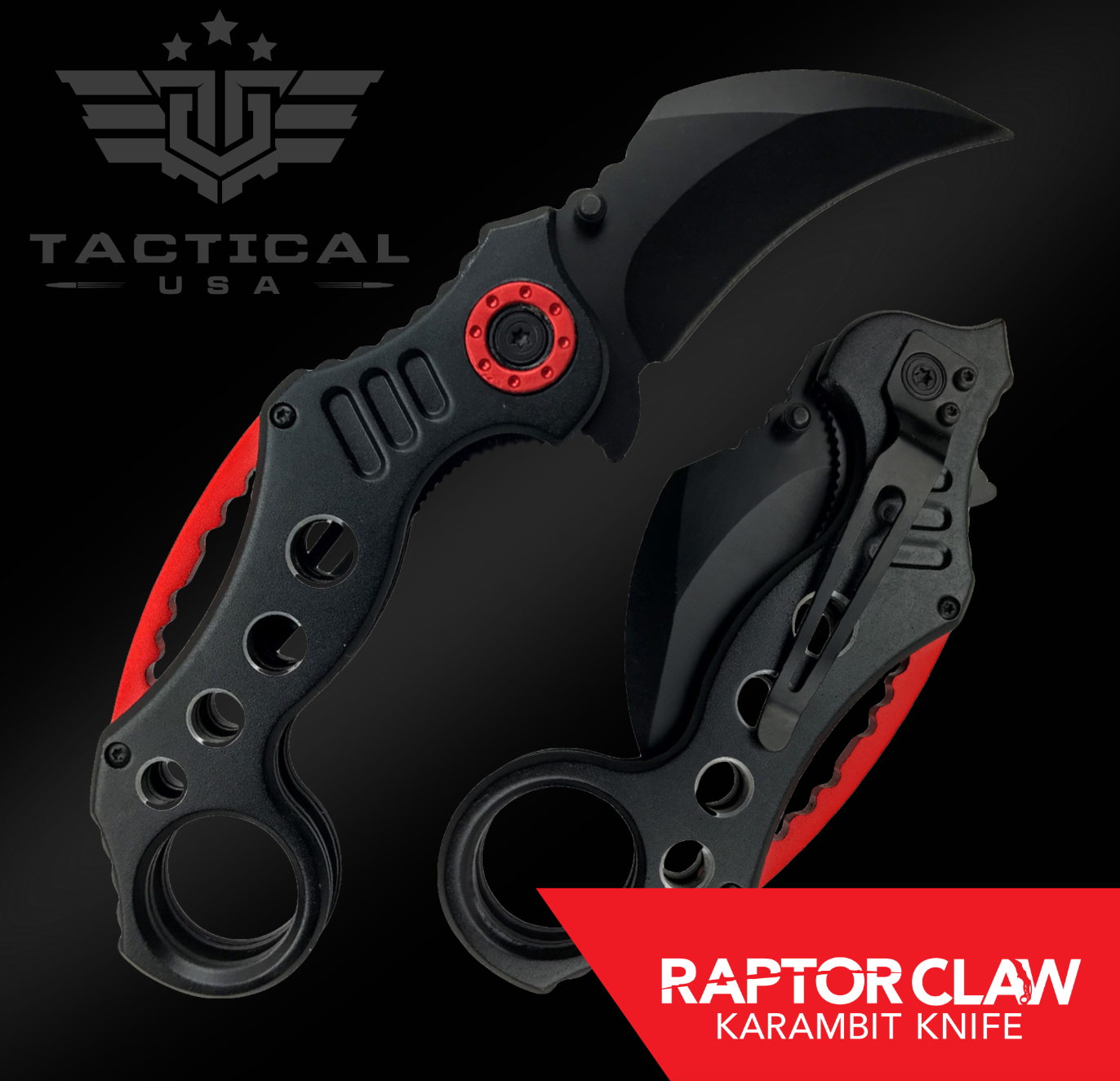 Nothing scares a gun owner more than a pack of raptors.
"Huh?"
You know what I mean…a GANG.
One punk addresses you from the front…
While his buddies attack from the back and sides.
They'll go for your gun…
Knock you down and kick you…
That's when you find yourself in a close-combat situation.
So what do you do?
There will always be pack-hunters in this world…
So if you're a lone wolf…
You better be prepared.
Because sometimes you can't hide…
Sometimes the pack finds you before you find them.
But I'm going to help you…
By giving you one of the deadliest close-combat weapons you can carry…for FREE.
Hey. It's Ranger Dan here…
And yes, today I'm giving you a $49 Raptor Claw Karambit Knife for free.
Why am I doing this?
It's a special way of introducing you to our small, family company from Massachusetts…
Which you'll come to know and love as Tactical USA.
We love God, gun, survival and combat…
And we're looking for other Americans like us so we can connect and share ideas.
That's why…
Today we're giving away 500 of our "Raptor Claw Karambit Knives" for FREE!
As a way to introduce ourselves to the online world.
And not to brag or anything…
But this isn't some dinky knife you get as a souvenir.
This is a combat-ready knife used for everyday carry…
And it's perhaps the deadliest knife you can use when it comes to close-quarter combat.
The blade is a razor-sharp, curved karambit blade
It's got a finger-ring grip so you can't drop it or be easily disarmed…
It's spring-loaded for lightning-fast open and close…
It's light-weight and discrete…
And it has a pocket clip for convenient carry.
It's the perfect carry for "just in case"…
And a great back-up weapon for close-quarter combat situations…
Overall…it's a deadly, badass knife.
We wanted to make a good first impression with you…
That way you have Tactical USA in the back of your mind next time your shopping for tactical gear.
This is just our way of saying hi and introducing ourselves.
Today 500 lucky people will get a free "Raptor Claw Karambit Knife"…
Since you're on this page right now, there's still time…
So keep reading to claim your free "Raptor Claw Karambit Knife"…