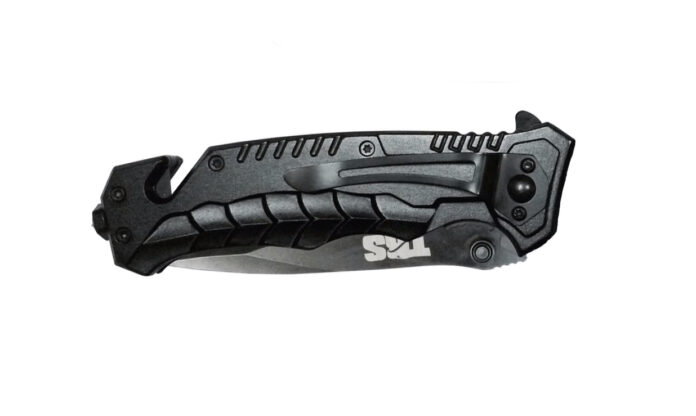 Please Allow Me To Rush You This Amazing Fighting Knife…for FREE!
I'm NOT joking! It's worth $50! But just say the word and I will send this ultra- vicious tactical survival knife — along with a $69 "Fast Blade"
instuctional DVD package for FREE
It's an incredible offer that won't last. So listen very carefully if you want in on this.
To: Fight Fast "Hot List" Member
Dear Friend:
With your permission – and with strict regard for your privacy – I want to send you the amazing TRS 325S Tactical Survival Knife…for free.
Why am I doing this? Actually there are two reasons:
First… I have something very important to say to you and I wanted to make sure I had your full attention.
And second, since what I will tell you has to do with using a quality folding knife for survival and protection, I thought this free Tactical Survival Knife would be the perfect way to prove my point.
I have yours right here in my office…and let me tell you, it is one gorgeous weapon.
It's been designed by trusted engineers and super-respected knife experts like my business partner Bob Pierce – a legend in the industry known for tapping the secrets of U.S. Special Forces
Your knife is total "bullet-proof" quality designed to be reliable in extreme conditions, and nearly indestructible under maximum abuse
The 325S is the ultimate in tactical survival.
It's constructed from highly durable corrosion resistant materials, so getting it wet is not a problem.
The handle is a lightweight and durable aluminum and the scallops and specialized thumb ridges ensures a tight grip – allowing for precision stabbing, slashing and cutting with no slippage even when covered with mud or blood.
The base of the knife has a cord cutter that can also easily slice through a seat belt. There's also a nifty glass breaker that can double as a very wicked tool when you need to get someone's undivided attention without having to resort to lethal force.
The quality 3-1/4 inch stainless steel blade and spring assisted open is perfectly legal – even here in California – and means you can have it out and ready in a blink.
There's also a dual sided thumb stud which allows for right and left handed opening.
The sturdy drop point design makes this a brutally strong piercing weapon with zero worry that the tip will ever snap. It'll stab straight through just about anything even a thick leather jacket… but especially flesh.
The base of the blade is serrated and perfect for cutting through rope, bone and cloth.
The closed length of the 325S is just 5 inches and the clip makes it comfortable and easy to carry and draw. It can take a lot of use and abuse and yet its light weight.
I could easily sell this weapon right now to the public for upwards of $50 or more. But for you — if you allow me to send this to you today – it's yours for FREE.
So why do you need you such a professional quality knife and the know-how to use it?