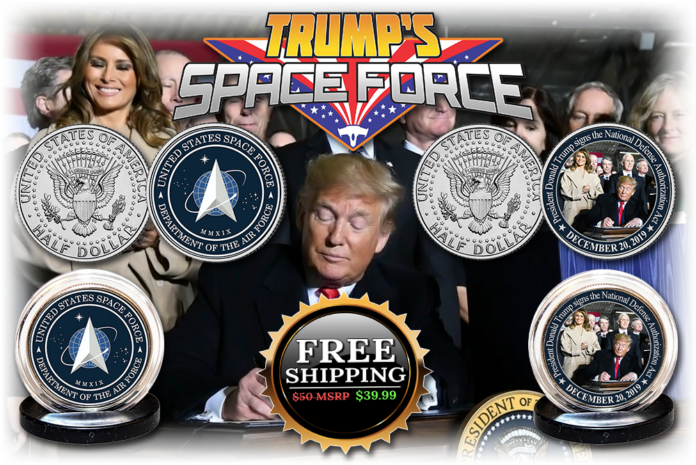 Commemorate This MONUMENTAL Moment In American History Today!On December 20, 2019 President Trump officially signed the 2020 National Defense Authorization Act and with it directed the establishment of the U.S. Space Force (USSF) as the sixth branch of the armed forces.
Today you can collect BOTH of the historic Trump Space Force Collector Coins before they sell out! One coin contains the official Space Force logo while the other contain shows President Trump signing the 2020 National Defense Authorization Act!
Free Shipping Today!
Designed on an Authentic JFK Half Dollar (REAL MONEY)
​A Physical Token to Remember the HISTORIC Establishment of United States Space Force
​Made With a New High Definition Printing Technique 
​2 Full-Color Certificate of Authenticities
2 Premium Coin Capsules
2 Coin Display Stands
Quick Shipping to anywhere in America​
Each Coin Just $19.99!

Made in the USA!
Claim The Limited Edition Space Force Coin Bundle Before They're Gone!
Order Online or Call us at 651-888-8622!
"My administration is reclaiming America's heritage as the world's greatest space-faring nation. When it comes to defending America, it is not enough to merely have an American presence in space. We must have American dominance in space." – President Donald J. Trump
One Coin Features The Official United States Space Force Logo!
One Coin Features President Trump Officially Signing The 2020 National Defense Authorization Act!
Today, these limited edition coins are just $19.99 each + you'll receive free shipping!
With Easy checkout, FREE shipping, and Fast DeliveryYou won't find a better deal anywhere.