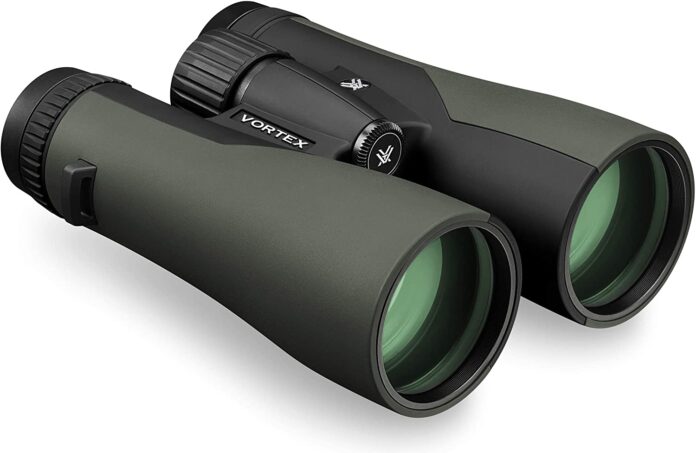 When serious patience and superior optics are required to locate tough-to-spot game at extreme distances, the Kaibab HD gets the job done with premium quality, high-powered optical performance.
The Kaibab HD is covered in durable, non-slip rubber armor and ultra-hard Armortek lens coatings to protect your binoculars in the most rugged environments.
The APO optical system features premium, high density, extra-low dispersion lenses that provide long range clarity. Lenses are fully multi-coated with XR plus anti-reflective coating that delivers exceptional light transmission and color accurate views.
The focus wheel operates with a slow, fine control to give you smooth and precise image acquisition. A right eye diopter locks down to keep the binoculars optimally focused. Multi-position eyecups twist up and down for customized eye relief.
Argon purging and o-ring seals ensure the Kaibab HD is both waterproof and fogproof.
18 x magnification
56mm objective lenses. Field of view: 194 feet at 1000 yards.
Close focus: 23 feet.
The Sweepstakes Prize consists of a check for $999, the retail value of 1 Vortex Optics Kaibab HD Binoculars.
PLEASE SEE BELOW FOR SWEEPSTAKES RULESENTER SWEEPSTAKES HERE
Name Email By clicking "Enter For a Chance Win" you are agreeing to the Sweepstakes Rules.
Enter For a Chance Win
Sweepstakes Rules
This Sweepstakes is sponsored by Tactical2Day, a brand of Adprecise,Inc., located at 20 Vandervanter Ave, Suite 105E, Port Washington, New York 11050. It will provide a check for $999 (USD), sufficient to allow the winner to pay the approximate retail value of Vortex Optics Kaibab HD Binoculars.This document contains a waiver of your right to bring a class action law suit, as well as limitations of liability of the Sponsor and related parties.
1. Initial matters

This Sweepstakes promotion is subject to certain specific rules, restrictions, limitations, conditions, and disclosures (jointly referred to as "the Rules").
Do not enter this promotion unless you have reviewed and agree to abide by the Rules contained herein.
By entering the Sweepstakes, you agree that you have read the Rules, understand them, and agree to be bound by them.
No purchase is necessary to enter or win.
A purchase will not increase your chances of winning.
Not purchasing will not disqualify you from entering or winning future Sweepstakes.
This Sweepstakes is void where prohibited by federal, state or local law. It is the entrant's responsibility to determine whether this Sweepstakes complies with applicable law in his/her jurisdiction.
By entering this Sweepstakes , you are consenting to receive and will receive marketing and informational communications from Tactical2Day, Adprecise Inc. and our partners. These communications may be in the form of newsletters, e-mail or in other media. Should you no longer wish to receive newsletters, you may opt out by following the procedures in Paragraph 10 below. You are not required to consent to receive these materials in order to be eligible win this prize.
This promotion is in no way sponsored, endorsed or administered by, or associated with Facebook. You understand that you are providing your information to the owner of this Facebook page and not to Facebook.