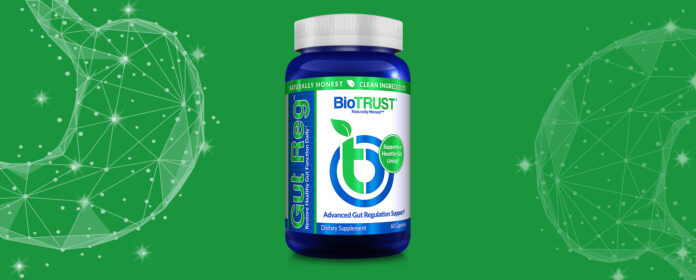 Introducing Gut Reg™
The Essential 2-in-1 Powerhouse for Gut Lining and Immune Support
If you are concerned about a powerful immune system and those other issues and sensitivities we covered at the start, let me express my professional perspective as an M.D. on this one very clearly…
More than any other type of supplement out there, you want to be certain to take the brand-new and 100% guaranteed Gut Reg.
(It's very easy to do, simply take 2 capsules daily and you're set!)
That's because I and the rest of the science team here at BioTRUST specifically developed Gut Reg from the ground up to provide you the exact research-based ingredients in highly effective forms and amounts to provide you the ultimate support for a healthy gut lining and powerful immune system in TWO WAYS:
Gut Reg helps "secure your walls" against foreign invaders. In other words, the key ingredients in Gut Reg provide powerful support for the body to address the big problem of a weakened and porous gut lining and instead promote the healthiest lining – the strongest walls – against pathogenic invaders.
These same powerful immuno-nutrients in Gut Reg also directly support a healthy immune system in other essential ways.
And YES, Gut Reg doesn't just mean peak immune health, it also means fast and powerful support for all those associated issues and sensitivities I brought up earlier…
Such as bloating, gas, flatulence, occasional heartburn, and irregularity… fatigue, brain fog, mood issues, and unhealthy cravings… and all the rest!
BEFORE you take action on the very special introductory offer you're getting right now below, though, I want you to understand WHY Gut Reg works so fast and so well…
Best of All, It's From BioTrust
BioTRUST is America's #1 online nutrition brand, known for having shipped over 15 million premium, honest nutrition products to their loyal customers around the world. BioTRUST was started in 2011 by Joel Marion and Josh Bezoni, two best friends whose mission was to create a nutrition company that was authentic, honest, and always put quality and service first. Toward that end, BioTRUST…
Searches the globe to source only the highest-quality ingredients for peak potency, absorption, sustainability, and overall better health for you and our planet.
Sources its ingredients from animal-friendly family farms that support cruelty-free, humane, and sustainable practices.
Sources its premium ingredients from family farms that support sustainable, non-GMO, and herbicide-free practices.
Is one of the few companies in the industry to conduct university studies on top products.
Is one of the few companies to have independent labs test products to ensure potency and purity.
Ensures the quality of all products is verified by a certificate of analysis.
Works only with top-tier manufacturers that strictly follow Good Manufacturing Processes (GMP).
Takes enormous pride in providing customers with world-class customer service and a 5-star customer experience.
Cares about community, too. To date, we have donated 3.5 million meals to hungry kids through our partnership with the nonprofit NoKidHungry.org® and granted over 205 wishes for children with life-threatening medical conditions through Make-A-Wish®.