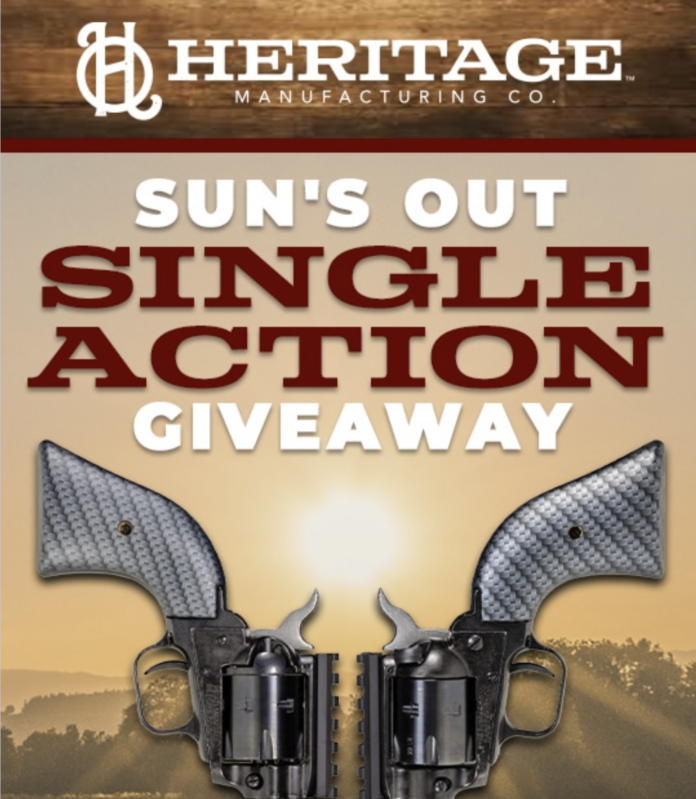 Enter To Win The Sun's Out Giveaway!
One Lucky Winner Will Receive a Rough Rider Tactical Cowboy Firearm.
Product Description:
For making tin cans dance in the backyard, pinging steel, or controlling pests and varmints around the farm, nothing beats the low-cost, high-adrenaline thrill of a single-action rimfire revolver. The Heritage™ Rough Rider® handguns are built with numerous grip options and feature the same classic profile and precision.
Chambered in 22 LR, is also compatible with the 22WMR cylinder allowing you to shoot either 22 LR or 22 WMR ammo. The new Heritage Rough Rider Tactical Cowboy features modern day technology into an old clasic world. The barrel is threaded for accessories like compensators and suppressors. The picatinny rail allows the user to add different optics if desired, but also works as a rear open sight to be used with the bright front fiber optic sight.
A total prize package worth $219.99!
Enter For Free Today!
USA ONLY – RULES APPLY – VOID WHERE PROHIBITED – ENTER BY 7/20/2023
Sponsored By: Heritage, GAT Daily, Gunwinner.com
Please see this link for more information…