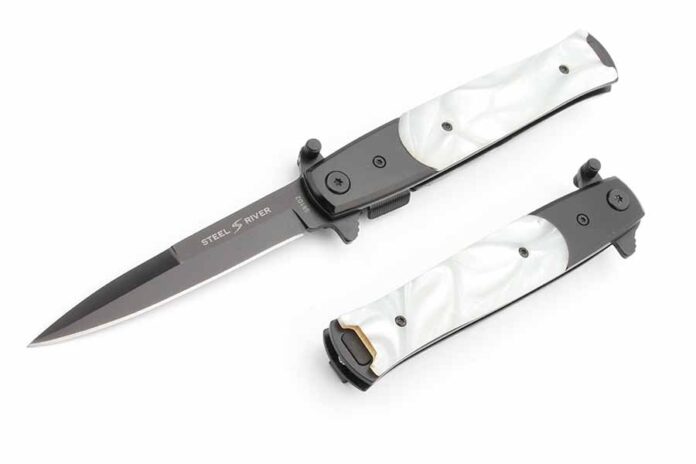 With your permission (and with strict recommendations for caution), I am going to send you one of the most influential and culturally relevant knives ever released in this country…
In fact, immediately following WWII, American soldiers brought this particular blade back to the country… and it created absolute hysteria!
There are 3 reasons for all of the madness that ensued during it's initial release.
1. This unique design originates from Italy. Americans had never seen it until post WWII.
2. It seeped in to popular culture, including the 1960 novel Stiletto by Harold Robbins, the films The Warriors & Twelve Angry Men and even Billy Joel's 1978 album 52nd Street.
3. But the biggest reason was that it is a lighting fast, automatic opening made it a ruthlessly dangerous weapon and widely desired by anyone looking for a self-protection or overall "badass" knife.
And, to really sweeten this offer for you, I am going to give you the Stiletto with White Opal handle
The Steel River Midnight Pearl Stiletto Knife
3.5″ Black Coated – Stainless Steel Blade
5″ White Opal Handle – Very Comfortable Grip
Incredibly Fast Opening: Fastest Opening Knife in Entire SOS Product Line
Spring Assisted Stiletto
Belt Clip
Liner Locking System
ABSOLUTELY FREE
That's right! This incredible, historical knife is yours FREE (normally $24.95) – you only pay the cost of Shipping & Handling.