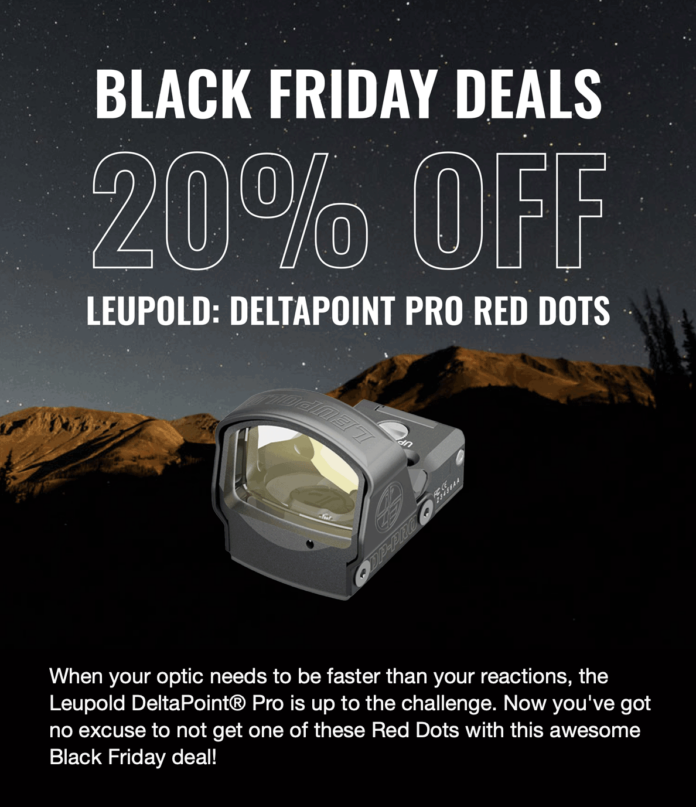 Mile High Shooting is offering 20% off Leupold Delta Point Pro reflex red dots for Black Friday. All Discounts are applied at checkout.
The DeltaPoint Pro NV (Night Vision) is proof that you don't have to compromise performance on a small sight. And now, it supports modern night vision devices with 10 brightness settings, including two that fine tune the red dot to match the sensitivity of your night vision equipment. We also added a customizable brightness setting at the top end the DP Pro NV. This makes it easier to quickly max out the intensity of your dot when conditions are at their brightest. So if you're moving between an indoor environment and bright sunlight, you won't miss a beat.
This extremely versatile sight has an easy-access battery compartment, so you don't have to re-zero after a battery change, and it also has click-adjustments for more precision. Its incredibly wide field of view and crystal-clear glass dominate the competition, while its rugged aluminum housing and steel sheath ensure it will perform in the harshest conditions.
The DP Pro was made for men and women who rely on their equipment to perform when it matters most. Its compact design is lightweight and rugged and won't get your way in the field, while its sight picture is second to none. Like all Leupold® riflescopes, it's designed, machined, and assembled in the USA and guaranteed for life.
Twilight Max
The Twilight Max® Light Management Systems offers a clearer, brighter image with three main benefits: Better Light Transmission – Maximizes more ambient light in low-light environments. Better Glare Management – Reduces more glare through additional lens coatings and minimizes image washout caused by stray light. Better Contrast & Resolution – Creates a clearer image using premium edge-to-edge lens prescriptions and HD coatings
Illumination
This scopes comes with an illuminated reticle, which can help you get on target faster in low-light situations.
Motion Sensor Technology
Motion Sensor Technology (MST™) extends battery life by automatically deactivating illuminated reticles after five minutes of inactivity and then reactivates instantly as soon as movement is detected.
Night Vision
Micro-adjustable illumination brightness settings support modern night vision devices and can be fine-tuned to your equipment's sensitivity.
Durability
Leupold pioneered modern waterproof and fogproof technology using advanced internal gasses and sealing methods that withstand extreme temperatures, elevation changes, and shocks, so the internals of the optics stay moisture free and crystal clear for life.