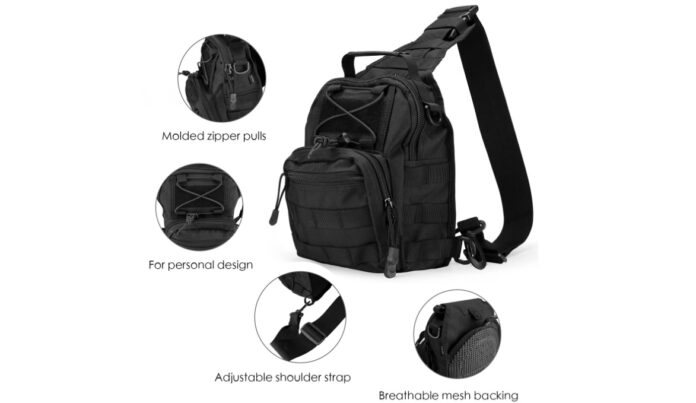 A Must-Have For Every True-Blue American Patriot
Stylish Black Military-Standard Shoulder Sling Bag
Made Of Ultra-Durable Hooks, Straps, Handle… There's Really No Tearing This Bag Up!
Perfect For Travel, Outdoor, Indoor, Sports, Gym, Every Day, Range, Heavy-Duty Usage
Usually Retails At $129.95… Yours FREE Today Only! (While Stocks Last)
The Most Durable Shoulder Bag Ever Made…
TONS OF STORAGE SPACE: With 20L of storage space, this is especially one of the largest shoulder bag available that will allow you to easily store and access all your outdoor essentials 
DURABLE BUCKERS AND STRAPS: This bag will withstand the harshest of conditions, indoors or outdoors. If this bag can sustain military usage, there's absolutely nothing it can't handle!
PERFECT FOR EVERYDAY USE, LIGHT OR HEAVY-DUTY: Whether you're thinking of heading down to the shooting range, airport or just using it for getting around everyday, this shoulder bag compliments it all!
STYLISH MILITARY BLACK: A sleek, stylish military black look that lets everyone at the range know you are the Alpha-Dog in the room. This duffel has a presence like none other!
ADJUSTABLE STRAP, DETACHABLE HOOK: Carry it any way you want, for any period of time!