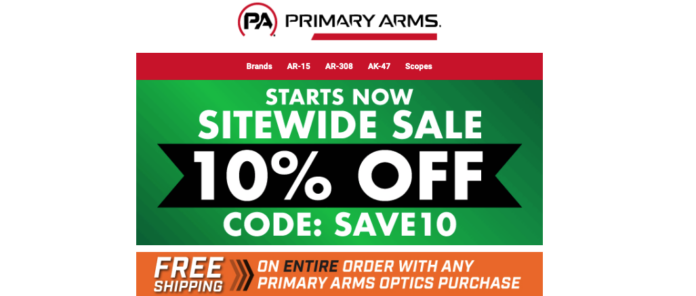 Primary Arms is currently selling the enclosed emitter MPS red dot sight for $450 dollars. However, they also have a 10% Off Sitewide coupon code "SAVE10" which would knock off an additional $45 off the $450 discounted price for a total of $405.
The Steiner MPS 3.3 MOA Micro Pistol Red Dot Sight is designed for quick target acquisition in close ranges. It features a fully enclosed design machined from light weight and heavy duty aluminum. The MPS Red Dot Sight runs off a CR1632 battery for a total of 13,000 hours. Additionally, it features an auto shut off that turns the sight off after 13 hours to prolong battery life. The Steiner MPS 3.3 MOA Micro Pistol Red Dot Sight is the ultimate CQB handgun optic.
Features:
3.3 MOA dot
8 illumination settings (6 day/2 night)
Waterproof, fog proof, and shock proof
Powered by a CR1632 battery
13,000 hours of runtime
13-hour auto shut-off
Multiple Mounting Options
Since 1947, Steiner Optics has worked to design and produce the most functional, sturdy, and optically flawless scopes and binoculars available on the market. World-class lenses, German Engineering, and the most exhaustive inspection and testing process in the industry have placed them firmly in the forefront for optics technology, scopes, and binoculars. For military and police, competitive shooters, or hunters Steiner builds the optics you can trust for life's defining moments and backs them with the Steiner Heritage warranty for the life of the product.