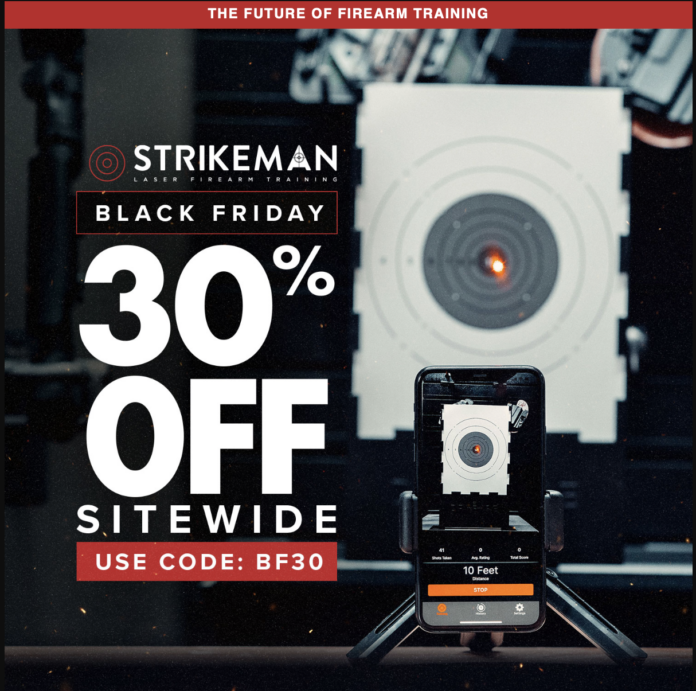 USE CODE "BF30"
For Black Friday, Strikeman is offering 30% off Sitewide on their entire product lineup.
This includes their dry-fire training systems, their laser cartridges an all other accessories.
Strikeman is a dry-fire training system that allows you to practice your shooting skills without the need for live ammunition. By using our signature target, laser bullet and smartphone holder in unison with our phone app, you can safely practice your shot in the comfort of your home. Traditional shooting practice is expensive. Now you no longer need to pay for range fees and ammunition to improve your accuracy. Strikeman allows you to develop your shot at a much lower cost, with live feedback, and accuracy metrics in our app that show your progress with every session.
Dry-fire training isn't a new concept. Police officers, the military, and special ops teams have been using dry-fire training to improve their shooting skills for years. The Strikeman training system is bridging the gap between expensive shooting technology, and affordability for Americans nationwide.
The Laser Cartridge
The laser cartridge is designed without a rim, so the cartridge doesn't get ejected after firing. The back of the laser bullet has a rubber button pad that safely absorbs the impact of the firing pin and triggers the laser to strike when the gun is fired. The cartridge is 100% safe for your firearm, and will not damage the weapon during use.
The Target System
The Strikeman target system is designed to work with the Strikeman app. The target includes a removable mount and suction cups, so you can place the target on a desk or suction the target to a wall. Our custom designed smartphone holder allows you to adjust your smartphone effortlessly so you can point the camera of your phone at the Strikeman target effortlessly.
The Strikeman App
Available on the Apple Store and Google Play store, our smartphone app records laser strikes from the Strikeman laser bullet on the Strikeman target, while giving you real-time feedback of your shot accuracy. Check out the history section to see your shot accuracy improvements over time, your average shot score distribution, and other key metrics.